Scaffolding Pipe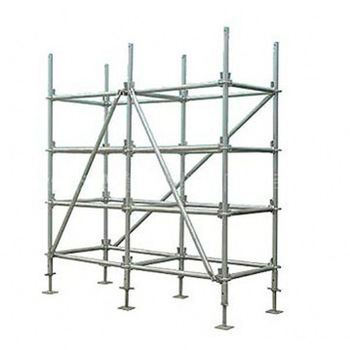 Scaffolding Pipe
Product Code : SP 26
Brand Name : JSL ISPAT PVT. LTD
Scaffolding product:-
''JSL'' International Scaffolding Standards
BS 449
Specification for the use of structural steel in building
BS 1139:Part 1/BSEN 39:2001
Tubes/ Lasons steel tubes for tube & scaffolding couplers scaffold.
BS 1139:Part 1:Section 1.1
Specification for steel tube.
BS 1139:Part 2:Section 2.1
Specification for steel couplers, loose spigots and base-plates for use in working scaffolds and
falsework made of steel tubes Identification with EN 74)
BS 1139:Part 2:Section 2.2
Specification for steel and aluminum couplers, fittings and accessories for use in tulnilar scaffolding.
BS 1139:Part 3
Specification for prefabricated access and working towers.
BS 1139:Part 4
Specification for prefabricated steel split heads and trestles.
BS 1139:Part 5
Specification for materials, dimensions, design loads and safety requirements for service and working scaffolds made of prefabricated elements.
BS 1449
Steel Plate, Sheet and Strip
BS 4074:1982
Specification metal props and steels
BS 4360
Specification for wieldable structural steels
BS 6323
Specification for seamless and welded steel tubes for automobile, mechanical and general engineering purposes.
BS 6681
Specification for malleable cast iron.
AUSTRALIA STANDARDS/ NEW ZEALAND STANDARDS
AS
1576
Scaffolding
1576.2
Part 2: Couplers and Accessories
1577
Scaffold planks
1892
Portable ladders
1163
Structural Steel Hollow section
AS/NZS
1576
Scaffolding
1576.1
Part 1: General Requirements
1576.3
Part 3: Prefabricated and tube-and-coupler scaffolding
1892
Portable Ladders
1892.1
Part 1: Metal
2269
Plywood-Structural
4576
Guidelines for Scaffolding
NZS


3609
Specification for timber ladders
3620
Scaffold Planks
Our Scaffolds Frame systems has gained world wide acceptance. In addition to this, our reliable and fiducial products are widely used by our esteemed clients in domestic market. We offer principal products at reasonable prices.

+ Our Frame systems are Light Weight
+ These Frame sets are flexible, easy to install and dismantle
+ Frame systems are Dynamic, can be extended or joined with additional units
+ Frame systems can achieve a wider roof span
+ Out Frame systems has higher safety factor
+ Aesthetic Frame systems, due to decorative geometrical structural pattern
+ Best Frame systems because of fast site installation, without any disturbances to other site jobs





Sidewalk Canopy Frame






Ladder Frame






Walk Through Frame




Cross Brase






H-Frame
| | |
| --- | --- |
| | '''JSL'' Cup Lock System |
Cup Lock System is one of the leading scaffolding arrangements used worldwide. Its unique node point connection makes it the fastest, safe, most economic and versatile scaffolding ever conceived & designed. It is fabricated out of requisite grade steel tubes i.e. "B" class. The connection point is set at 500/1000 mm intervals. The captive mobile cups are casted out of malleable cast iron to ensure rough site handling and bottom cups of high quality pressed steel are welded. Loose or welded EJPs are provided for trouble free and strong link between vertical (Standard) members. These verticals are used clubbing horizontal (Ledgers) members having identical, fit in, shaped forged ledger blades to fit in the cups of the vertical.

Produced from tube thickness 3.2mm:
''JSL'' finish available for Scaffolding:
- Galvanized
- Painted


| | | |
| --- | --- | --- |
| | Horizontals/Ledgers | |
| | |
| --- | --- |
| Size (Mtr.) | Wt (Kg.)/Pc. |
| 0.60 | 2.200 |
| 0.90 | 3.200 |
| 1.00 | 3.550 |
| 1.20 | 4.200 |
| 1.50 | 5.250 |
| 1.80 | 6.250 |
| 2.00 | 6.900 |
| 2.50 | 8.600 |
| 3.00 | 10.300 |
| | | |
| --- | --- | --- |
| | Verticals / Standards | |

| | |
| --- | --- |
| Size (Mtr.) | Wt (Kg.)/Pc. |
| 0.5 | 2.300 |
| 1.0 | 4.550 |
| 1.5 | 6.800 |
| 2.0 | 9.100 |
| 2.5 | 11.350 |
| 3.0 | 13.600 |
Transoms are fabricated from twin structural angles fixed back to back with a drop forged blade attached to each end. The 1.8m and above Transom has an additional web member welded below the flange section for added strength. The transom blade locates into a bottom cup and is locked in position by the top cup. The outward standing bottom leg of the angles supports the steel planks in a captive manner. Available in various lengths to suit scaffolding and formwork applications.



Omega Transoms manufactured from press bent section with flange type extensions on both sides provides a strong support for working platform with Cuplock steel battens.



Cuplock Intermediate Transom
For use where distance between standards exceeds the span of scaffold boards Cuplock Intermediate Transoms Available in various lengths.


Cuplock Inside Board Transom
Similar to intermediate transoms, inside board transom is used for providing facility for a single inside board platform.


The Return Transom is used at the end of a scaffold run where it meets another scaffold running at right angles to it. The U-shaped return section of the transom hooks over the ledger of the adjacent scaffold, closing off the gap between the two scaffold.



This item is used for providing support to decking or formwork at edges. This frame has ledger blades to be fitted into cups of Cuplock standards at one end and with provision for accepting jacks in three positions at the other end at 1.2 m, 1.25 m and 1.3 m from centerline of the standard.
Hop-up Brackets are designed in omega sections as well as in tubes sections for placing battens with provision of forged blades to be fitted with Cuplock standards by cup joint. Omega Hop-up brackets are available for single board, two board and 3 board allocations.

Adjustable Telescopic Props is one of the ideal, most economical & important part of shuttering system to support all kind of form work to slabs, beams, walls and columns. It is fabricated out of 'B' class steel tubes and is in two parts I.e. prop outer & prop Inner, the outer is fabricated out of 50NB (60.3 mm OD) tube having threaded/slotted top end, a malleable CI nut with handle for finer adjustment; the bottom is provided with welded 150x150x6 mm MS Flat Base plate. The Prop Inner is fabricated out of 40NB (48.3 mm OD) tube having holes at a regular interval of 150 mm. The end is provided with welded U/Flat or Beam Head. These props are available as per the following specification.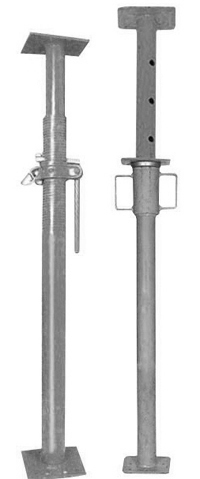 International Sizes
SAFE LOAD for Medium Duty
Sizes
C.H.*
/
E.H.*
Closed
Extended
Approx. Wt.
0
1.10 Mtr.
/
1.75 Mtr.
3500 KG
3000 KG
11.1 KG
1
1.50 Mtr.
/
2.75 Mtr.
3200 KG
2300 KG
15.1 KG
2
2.00 Mtr.
/
3.25 Mtr.
3000 KG
2200 KG
16.8 KG
3
2.00 Mtr.
/
3.75 Mtr.
2900 KG
2000 KG
19.1 KG
4
3.00 Mtr.
/
4.65 Mtr.
2300 KG
1150 KG
22.5 KG
Prop Sleeve

(Tube OD : 60 mm)

S
T
L
Weight (kg)
With PIN & Wire
Without Pin & Wire
14.0
3.6
200
1.380
1.300
16.0
3.3
230
1.415
1.335
18.0
3.6
250
1.485
1.405








| | | | | |
| --- | --- | --- | --- | --- |
| Pipe OD | Pipe ID | Close End (m) | Open End (m) | Open End (m) |
| 60mm x 3.2mm | 48mm x 3.2mm | 2.5 | 4 | 27.9 |
''JSL'' Adjustable Base Jack

Adjustable Base Jack Fabricated out of 32.00, 36.00 & 38.00 mm o MS Bar with 4 TPI Acme/ Square threads. 150X150X6 mm MS Flat Base Plate & Malleable cast iron Cup Type. Double Handle light/ heavy duty nut. Sizes available are 350,450,550,600 mm bar length.



''JSL'' Adjustable U Jack (Stirrup Head)

Adjustable U Jack (Stirrup Head) fabricated out of 32.00, 36.00 & 38.00 mm o MS Bar with 4 TPI Acme/ Square threads. U Head having fabricated out of 100X6 mm MS Flat & Malleable cast iron Cup Type, Double Handle light/Heavy duty nut. Sizes available are 350,450,550,600 mm bar length.




Hollow Base Jack fabricated out of 38mm OD Pipe with 4m thikness. 150x150x6mm MS flat base plate & drop forged jack nut. Sizes available are 450,600,660,760mm.



''JSL'' Hollow Universal Jack


Hollow Universal Jack fabricated out of 38mm OD Pipe with 4m thikness. Fully threaded with jack nut. Sizes available are 600,660,760mm.




Hollow "U" Jack fabricated out of 38mm OD Pipe with 4m thikness. U head made out of 100x6mm MS flat & drop forged nut. Sizes available are 600,660,760mm.


''JSL'' Adjustable Telescopic Span
These spans provide maximum safety with minimum supervision, fabricated out of 2 mm sheet lattices of 10mm bar, and main bar of 16mm & T section of 40 x 5mm. It needs no intermediate support to be provided. Its available sizes with their respective opening and load carrying capacity are as shown.


| | | |
| --- | --- | --- |
| Size | Min. Mtr. | Max. Mtr. |
| ESO+ESI | 1.75 | 2.70 |
| ESO+SI | 2.35 | 3.45 |
| ESO+ESI | 2.40 | 3.45 |
| SO+SI | 2.46 | 4.15 |
| SO+LI | 3.05 | 4.75 |
| LO+SI | 3.15 | 4.90 |
| LO+SI | 3.15 | 5.50 |
Wall form-work is a multipurpose form-work & is suitable for most types of in situ concrete construction such as walls, foundations, columns, rectangular or circular tanks, dams, sea defense works etc. These are made from highly finished steel sheets duly stiffened by steel angles & held together by a rigid clamping and walling system to ensure a good quality finish time after time. This system of form-work gives complete versatility & at the same time being durable, accurate & fast, allowing simple erection with long life and low maintenance.

It may be assembled to give a strip and re-erect sequence or may be formed into large crane handled units. Whether positioning by hand or moving large areas of form work by crane, steel panels will give a consistently good finish with only a single joint mark between panels.



''JSL'' Couplers & Fittings
Our Coupler and Fittings like Forged Double Coupler, Forged Swivel Coupler are manufactured by a modern rapid production system. The materials employed are principally Mild Steels/Forged Steels and fittings have been tested and conform to the BS - 1139. The fittings are tested to resist corrosion having a complete zinc coating with chromate passivation. Additionally, all scaffold fittings are supplied with fully captive nuts. We operate a rigorous quality assurance policy.

Various Coupler & Fittings supplied by JSL Scaffolding are as follows:-
1. Drop Forged Coupler/Right Angle
2. Pressed Couplers

Forged Type Double Coupler
Forged Type Double Couplers provide stronger grip. Easier to handle when connecting standard to standard or ledger to ledger and any tube having an outside diameter of 48.3mm at right angle or 90°.

Forged Type Swivel Coupler
Forged Type Swivel Couplers are flexible than the double couplers since it can connect two 48.3mm outside diameter tube at any angle.

Pressed Type Double Coupler
Pressed Type Double Coupler used to connect two Scaffolding Tubes at right angles. These are critical components in the scaffolding structure and must be load bearing to resist both slip and distortion.

Pressed Type Swivel Coupler
Pressed Type Swivel Coupler used to connect two Scaffolding Tubes at any angle. These are key components in the structure and must be load bearing.

| | |
| --- | --- |
| For Tube OD(mm) | Wt.(Kg) |
| 48.300 | 1.500 |





| | |
| --- | --- |
| For Tube OD(mm) | Wt.(Kg) |
| 48.300 | 1.050 |





Combination Double Coupler




| | |
| --- | --- |
| For Tube OD(mm) | Wt.(Kg) |
| 48.300 | 1.200 |
| 60.000 | 1.200 |





Combination Swivel Coupler




| | |
| --- | --- |
| For Tube OD(mm) | Wt.(Kg) |
| 48.300 | 1.300 |
| 60.000 | 1.300 |

| | |
| --- | --- |
| For Tube OD(mm) | Wt.(Kg) |
| 48.300 | 0.500 |





| | |
| --- | --- |
| For Tube OD(mm) | Wt.(Kg) |
| 48.300 | 0.625 |





| | |
| --- | --- |
| For Tube OD(mm) | Wt.(Kg) |
| 48.300 | 1.350 |





| | |
| --- | --- |
| For Tube OD(mm) | Wt.(Kg) |
| 48.300 | 0.750 |





| | |
| --- | --- |
| For Tube OD(mm) | Wt.(Kg) |
| 48.300 | 0.900 |





| | |
| --- | --- |
| For Tube OD(mm) | Wt.(Kg) |
| 48.300 | 0.650 |




| | |
| --- | --- |
| For Tube OD(mm) | Wt.(Kg) |
| 48.300 | .710 |





| | |
| --- | --- |
| For Tube OD(mm) | Wt.(Kg) |
| 48.300 | 0.700 |





| | |
| --- | --- |
| For Tube OD(mm) | Wt.(Kg) |
| 48.300 | 0.800 |





| | |
| --- | --- |
| For Tube OD(mm) | Wt.(Kg) |
| 48.300 | 3.375 |





| | |
| --- | --- |
| For Tube OD(mm) | Wt.(Kg) |
| 48.300 | 0.700 |

| | |
| --- | --- |
| For Tube OD(mm) | Wt.(Kg) |
| 48.300 | 0.550 |





| | |
| --- | --- |
| For Tube OD(mm) | Wt.(Kg) |
| 48.300 | 0.900 |

| | |
| --- | --- |
| For Tube OD(mm) | Wt.(Kg) |
| 48.300 | 0.450 |

| | |
| --- | --- |
| For Tube OD(mm) | Wt.(Kg) |
| 48.300 | 0.500 |
| | | | |
| --- | --- | --- | --- |
| | | ''JSL'' Formwork Products | |






Top Cup 4 Lug (Drop Forged)











Prop Nut - Light Duty with Handle (Drop Forged)


























Ledger Blade with Hole(Drop Forged)




















Anchor Nut 3 Lug (Casted)

















| | |
| --- | --- |
| Rod Dia (mm) | Wt.(Kg) |
| 12 | 0.300gm |







Prop Nut (Heavy Duty) Drop Forged

















Anchor Nut 3 Lug (Forged)